Post by Morgan on Jun 11, 2023 13:50:22 GMT -8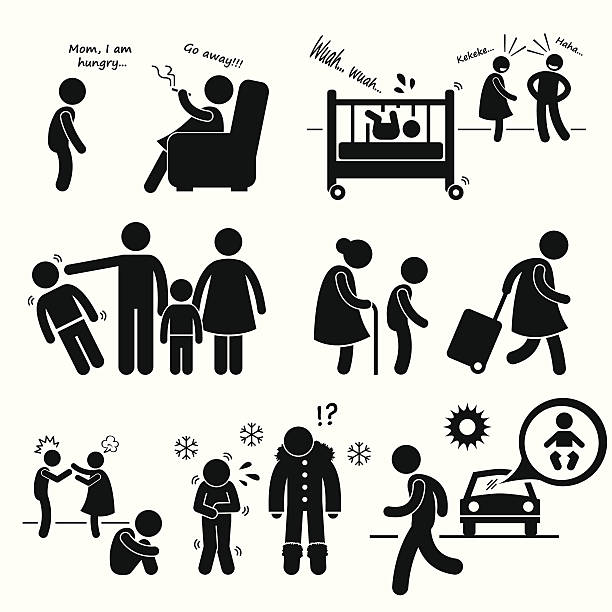 The Trauma of Neglect

Shirley Davis (Morgan)

**Trigger Warning Talks about My Own Neglect**


People like you and I had highly traumatic childhoods. There was the apparent abuse that we can name and remember through flashbacks, and there is also the hidden abuse that few acknowledge; neglect.
This article will focus on neglect, its effects on adults, and ways to defeat it.
What is Neglect?
Neglect is a form of abuse that is perpetrated against a child. One form of neglect is withholding much-needed love and respect from a child, choosing instead to ignore the child's needs.
The most harmful form of neglect, however, is when the child is being abused by one caregiver, and the other, knowing it is happening, does nothing. Children must have an adult to rely on for survival, so they idolize their neglectful parent simply because that caregiver is not overtly being abusive but ignoring what the other adult is doing.
Perhaps the cruelest twist is that the caregiver who is idolized does just as much long-term damage as does the overtly abusive parent. When working through childhood abuse later in life, the traumatic memories and emotions experienced by the overtly abusive parent are more apparent and available to access than those of the neglectful parent.
Some abusive behaviors that are considered neglect are as follows:
• Lack of emotional support when the child is ill or having a hard time
• Exposing the child to domestic violence
• Withholding or not showing love
• Disregarding a child's mental well-being
• Being emotionally absent
• Overtly ignoring the child
• Allowing abuse by another parent to go unchecked
Letting Go of a Mirage
Children who face overwhelming abuse and neglect often cocoon themselves in fantasy as the mirage of how they see their caregivers. Children often will form images of their caregivers as good and caring individuals when in reality, they are not.
The child must do this for their emotional safety because to admit their caregivers, especially the neglectful one that they idolize, doesn't love them is akin to emotional suicide.
As adults, people who were neglected as a child often fight against recognizing their "caring" parent as being neglectful. True healing can begin when the mirage of that parent as being loving and meaning the best for their child dissipates.
Therapy aims to shift perception to an adult-integrated perspective allowing oneself to voice their emotions and give each parent the responsibility they had to keep the person safe when they were a child.
It is critical to sort out our relationship with our parents and who they should have been. This step is difficult, but if we are to attract and form healthy relationships as adults, it is critical to face childhood abuse and neglect head-on.
Symptoms that Show You Were Neglected
How you may have responded and felt the effects of neglect will vary depending on your resilience and what happened to you. One study performed in 2016 with adults found that neglect was associated with increased chances of experiencing mental illnesses, including:
• Anxiety disorders
• Depression
• Substance use disorder
• Cluster A, B, and C personality disorders
If you were neglected as a child, the signs would show up as an adult that include:
• Inability to trust others
• Stress
• Fear of abandonment
• Lack of boundaries
• Self-sufficiency
• A distorted sense of self
As if experiencing the effects of childhood neglect is not bad enough, people who have been neglected often repeat the patterns they were exposed to as children.
Neglect and Dissociative Identity Disorder
As many of my readers know, dissociative identity disorder is a condition that forms because of severe and repeated childhood abuse. Neglect is a form of abuse that many who have DID experienced and still show signs of today.
Perhaps your mother or father knew you were being molested but did nothing. That is the story for many of us. My father knew what was happening but did nothing to intervene and end my misery. When Dad died when I was only fifteen, I idolized him as some superhero. It wasn't until I entered therapy that I discovered the truth that he was a coward who only looked out for himself.
Dissociative identity disorder doesn't only happen because someone overtly abused us; it is also a disorder caused by the horrendous chaos that the abuse and neglect caused. Also, DID is made worse by the confusion we may have felt as children reaching out to the parent we idolized, only to be avoided or pushed away.
Psychotherapy is the only way to work out what happened and to come to terms with the lack of love we had as children.
Healing from Neglect
It takes working with a therapist to own and process the residual emotions and to change how the multiple sees the neglectful parent. Recognizing that the neglectful parent was just as damaging, if not more than the overtly abusive one is necessary.
Healing is certainly possible from childhood neglect and dissociative identity disorder. It may take years of hard work, but building a new life for oneself is possible.
There are some steps you can take to speed up your healing.
Show yourself self-compassion. Self-compassion is responding to yourself with kindness and understanding all the time, even when you make a mistake, instead of harshly judging yourself. Self-compassion also means extending to yourself the same love and grace you would give others.
Connect with and experience unconditional love. A pet, such as a dog or a cat, can help you understand unconditional love. It is critical to understand this concept because we didn't receive it as children, and lack of it has tainted all our adult relationships.
Write a letter to your child self or your caregiver from childhood. Express your true feelings coming from the point of view of an adult. Tell your abuser and neglecter how you felt when they hurt you. You can then show it to your therapist or burn it as a powerful expression of breaking free from your past.
Ending Our Time Together


I have already spoken of my own experiences with childhood abuse and neglect. It took me several years in treatment to even begin to explore my dad's part in my past. His dying robbed me of the opportunity to tell him how he hurt me.
However, I wrote him a letter full of pain letting him know how much damage he did by not stopping my mother and his father's horrific abuse.
I am more vital than ever before because I have come to terms with my past. I recognize it for what it was and will never forget what happened.
What about you? Do you recognize the neglect you faced in your childhood? Do you see how it affects your relationships today?
Don't give up. If I can come this far, you can too. No, the pain will never go away, but it will gradually subside to a manageable form.
"Everybody goes through difficult times, but it is those who push through those difficult times who will eventually become successful in life. Don't give up, because this too shall pass."- Jeanette Coron.
"Recalling painful events can be hard, but in order to move forward, you must reflect on the hurt, accept that it happened, make no excuses for the behavior or the damage caused, forgive yourself and others involved, break the cycle, stay in faith and find a way to rebuild your broken spirit." – Germany Kent
References
Taillieu, T. L., Brownridge, D. A., Sareen, J., & Afifi, T. O. (2016). Childhood emotional maltreatment and mental disorders: Results from a nationally representative adult sample from the United States. Child abuse & neglect, 59, 1-12.